I am from Buenos Aires, Argentina – country of the tango, Messi and Evita. I have lived in New Zealand since 2002 and  I love it.
I have an IT degree and a specialisation in ELE (Teaching Spanish as a Second Language). In Argentina, Spanish is our first language.
I have experience teaching not only Spanish, but also other subjects to adults and children. I am passionate about teaching and my style focuses on every day, useful communication. My students quickly learn to speak some Spanish.
Having learnt English as a second language, I know about the frustration of learning formal grammar, but being left not knowing how to communicate in the supermarket. This definitively will not happen to you at Viva Spanish.
When I am not looking for new material or getting my classes ready, I enjoy reading Argentine newspapers on the Internet or walking my dog Alma.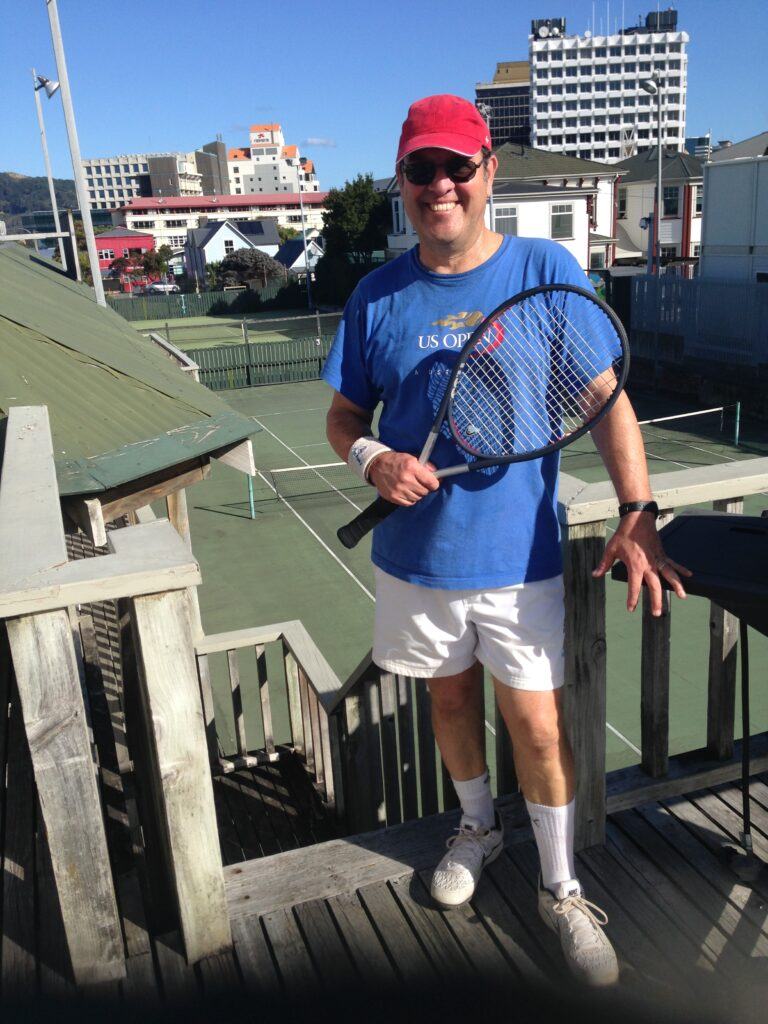 I am Adriana's husband, and together we run Viva Spanish!
I have a National Certificate in Adult Education and have been trained on Teaching Spanish as a Second Language.
My professional background includes working at the Spanish Embassy in Wellington and running my own executive training business in Buenos Aires. I also have extensive teaching experience, including teaching at the Argentine University of Business and at the New Zealand International Campus. 
I like drinking "mate", playing tennis and like Adriana, I am a fan of Boca Juniors, the famous football team from Argentina.
Together with my wife, Adriana, we have taught over 2,500 students since launching Viva Spanish in February 2006.
Our Spanish Teaching Style
Our courses are designed to give you practical communication skills, with an emphasis on being able to speak some useful Spanish fast.
Reading, writting, listening and speaking; you need all of them and we guarantee you will develop each of them.
We have developed our own written material based on extensive research and our own teaching experience.
You'll never miss a class!
All group classes are recorded and are sent to those students that are not able to attend.
"I started as a complete beginner and am very pleased with how I've progressed. Adriana makes things very easy to understand, is patient and supportive, and has a great sense of humour. Learning Spanish with Adriana is a highlight of my week and I really couldn't recommend it more!"
Mary Baines
"Working with Adriana has been amazing for my Spanish language skills—we go at my pace and each lesson is individualized based on my needs. My husband who is from Spain has been impressed with the amount I have learned in a relatively short time. I can now better communicate with my mother and father in law! Thank you Viva Spanish!"
Anna McCartney-Melstad
"I started learning Spanish with Viva Spanish in 2013. All the courses are well-structured with a focus on the grammar and vocabulary that you would need for travel, work or study in a Spanish-speaking country. I would definitely recommend Viva Spanish to anyone in NZ wanting to study Spanish online."
Wendy Marshall
"Having lived in Spain for a while 10 years or so ago, and worked hard to learn enough Spanish to get by there, I really wanted to make an effort to keep it up. Adriana is an excellent teacher! She is very patient and encouraging. She is thoroughly professional and knowledgeable. She prepares interesting materials and is always organised. And she has not only helped me keep what Spanish I had, but also improve - I am happy to recommend her."
Karen Ferris
"It's been a dream of mine to speak another language and after travelling around Spain for a few months I fell in love with the language. I've tried learning through a lot of different ways over the years; language apps, learning through songs, online programs, but I found them all really hard to stick with and pick up as much as I wanted to. After I started at Viva Spanish, I have made more progress in one year than I have collectively any other way. Being taught Spanish, in Spanish is so helpful, and being involved in conversations every week is amazing."
Christopher Wooding
"My wife and I have been taking Spanish classes at Viva Spanish since 2020. The structure and approach that Adriana takes means that, we have not only maintained our level, but have also been able to improve our knowledge and correct our bad habits. The classes are fun and interesting and Adriana uses a mix of current events, and relevant stories (especially about South America) to keep everyone engaged and learning. However Adriana's deep knowledge of Spanish language, in particular grammar, ensures that there is good quality learning happening underneath the fun."
Brian Ferris
"I have been learning Spanish with Adriana since 2010, from the beginner level, and have enjoyed every minute of it. Adriana takes great care in preparing interesting material for the classes. Learning the language is coupled with learning cultures, history, geography, and current topics. She has the ability to break down grammar rules into easily digestible chunks and has endless patience with explaining and repeating. The classes are structured and fun, a mix of reading, writing, conversation, grammar exercises. There is something for everyone's preferences and you are constantly challenged to improve and grow the language basket. Learning Spanish has broadened and enriched my life - from being able to talk to locals on my travels to meeting my Spanish speaking partner and talking to his family and friends. It is a constant learning journey and Adriana continues to support me on it."
Snjezana Lipovac